The Club offer a number of weekend Group Rides. We meet at 9.00 am in the car park adjacent to the Station Road Coffee House and Wheels Cycles in Station Road, Gillingham (SP8 4QA). 
We ask that regular participants become members of the Club. Please ensure you bring your own essential repair items, ID and an emergency contact.
Saturday mornings - During the 'summer months' we aim to run three Saturday morning guided club runs, though this may drop to two groups through the winter, depending on numbers.
Saturday White Group 09:15 to 12.30:
This is a more gentle paced social ride that will typically cover 35 to 45 miles at a speed of 12 to 13 mph (19-21 kph) though the pace will be dictated by the group.  Routes are circular and end with coffee and cake at the Station Road Coffee House.This is a no drop ride. occasionally a longer ride may be organised.
Saturday Blue Ride 09:15 to 12:30:   The intermediate group will typically ride
 between 35 and 50+ miles at a speed of 14.5 to 16.5 mph (23-26 kph). The routes are circular and cover the Frome / Warminster / Salisbury / Blandford / 
Sherborne areas. This is a no drop ride, but participants need to be able to maintain the stat
ed speeds across the terrain covered. Occasionally a full day outing will be arranged.
Saturday Pink Ride 09:10 to 13:00:
The faster group typically cover
between 40 to 60+ miles at speeds between 17 and 19 mph (27-31 kph), this ride may also run as a chain gang training ride. This is a no drop ride. Occasionally a full day outing will be arranged.
Where possible, routes will be published beforehand on the Club's Facebook page. 
After the Saturday rides there is usually a get together in the Station Road Coffee House next to Wheels.
Sunday Morning Ride 09:00 to 12:30: There is usually just one ride on a Sunday morning and this will typically ride 40 - 60 miles at speed of 17-19 mph (27-31 kph), and cover Dorset, Wiltshire and Somerset areas.
Thursday Improvers' Ride 19:00 to 20:30:
 This ride 
is aimed at newer riders wishing to improve their abilities, those getting back into cycling, or those who just enjoy a slower paced ride. 
This is a group ride that sticks together and chats. It's a social ride where the enjoyment is chatting to one another on bikes in the great outdoors. 
The speed will be determined by the group but typically be between 11-13 mph and rides will last about 90 minutes. This is a no drop ride.
A number of typical routes are listed on the Club Runs page 
here
For more information or any enquiry use the
Contacts
page
Safety Advice
All riders are encouraged to carry a good bike pump, and a couple of spare tubes, with some decent tyre levers, a drink, some food and some money.  But more essential is some identity and emergency contact details, either an ID tag or your GDW membership card which has your emergency contact details on the back.  If you have the misfortune to come off or have a medical emergency this could be the most important information in your pocket.  
Carrying  a mobile phone is also a good idea with your emergency contact name/number in the directory.
Club guide to group riding by British Cycling for your info:
 Knowledge Level: Beginner
If you have been following the British Cycling Training Plans, you may have already ridden with groups of riders or even joined a local club and taken part in their club-rides. If you're not used to riding in a group, rolling away from the start line of a sportive surrounded by other riders can be intimidating and by not being comfortable in a group and being able to shelter from the wind, you'll be making any ride significantly more difficult. 
Communicate
The most important factor to successful group riding is communication. Make sure you know the meaning of and always pass any verbal signals through the group. As well as obvious shouts such as "slowing" and "braking", others to be aware of are "car up", meaning there is a car ahead to be aware of, "car back", meaning there is a car behind and "single out", meaning to adopt single file. Be aware there are local variations of these shouts, so use your eyes too. There are a number of hand signals you should also be aware of (see illustrations below).
Be aware
Stay relaxed in the group but constantly look around and don't mindlessly follow the wheels. Look past the riders in front to get a heads up of the road ahead. Always look first and let the riders around you know before moving within the group.
Obey the rules of the road
Most Sportives take place on roads that are open to traffic and, even with those on closed roads, there's no guarantee that there won't be some traffic on the course, so ride accordingly. Respect junctions and always stay on the correct side of the road.
Ride consistently and predictably
Your movements will affect everyone in the group. Hold a straight line, don't weave and always overtake around the right hand side of the group.  Don't grab your brakes and, if you stand out of the saddle, don't let your back wheel drop back. Also, when you come to a feed station, no matter how relieved you are to see it, don't veer across the road.
Don't overlap wheels
In case the rider ahead needs to brake, don't follow their rear wheel directly. It's perfectly acceptable and you'll get the same drafting benefit from riding six inches either side of it. However it's essential that you don't overlap their rear wheel as any sudden movements by them will be likely to bring both of your down.
Make sure both you and you're bike are prepared
Ensure your bike is well maintained as misfiring gears or poor brakes can make you a liability in a bunch. Carry suitable spares, clothing and some of your own food and drink so that you are self reliant. 
Avoid half wheeling
If road conditions and traffic allows you'll often be riding two abreast. Maintain an even pace and stay level with the person next to you. Do not constantly up the pace whenever a rider draws level to you. Known as "half-wheeling" this is definitely frowned on.
Wheel suck
Don't always sit amongst the wheels and shirk your stint on the front. Even if you just put in a few turns of the pedals it'll be appreciated. However, even if you're finding the pace easy, don't get on the front and accelerate, try to maintain the pace of the group.
Don't ride in the gutter
If you're on the front of the group, don't sit in the gutter as you'll be forcing everyone else to follow you increasing the likelihood of hitting obstructions such as drain covers and of picking up punctures. Where possible, ride 1 m out from the curb.
Expect the group to change
Groups will change, fragment and reform as the ride progresses. Expect larger groups on flat sections but, on longer climbs, they'll break up. Similarly, on descents, riders will tend to string out to give more time to react at higher speeds.
Hand Signals
In addition to the standard directional signal of the left or right hand extended out to the side, which should be used whenever you are cycling on the public highway, see below some of the other common hand signals used when riding in a group situation.
Make yourself aware of these prior to going out on a group ride and also check with a group member which hand signals and verbal shouts they regularly use, as they can vary locally.   

One hand as if "gently patting an invisible dog": This shows that the group is slowing down or just to ease the pace back a bit.
image: https://www.britishcycling.org.uk/734//zuvvi/media/bc_images/bc_izone/test/HAND_SIGNAL2.1422361292.jpg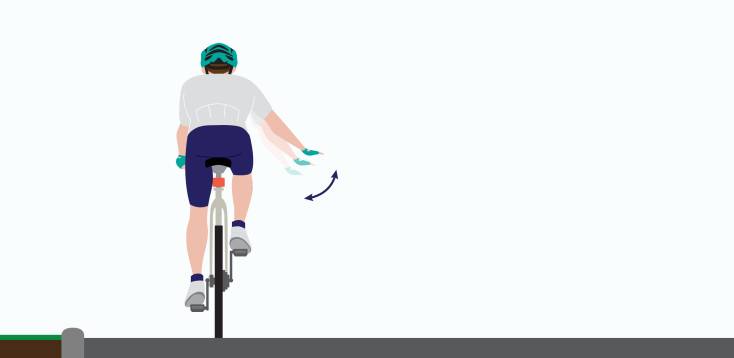 Pointing down at the road sometimes with a circling motion: Indicates an obstruction or hazard on the road such as a pothole or drain cover that needs to be avoided. Be sensible with this one and only point out major obstacles that should be avoided. This signal is often accompanied with a call of 'below'.
image: https://www.britishcycling.org.uk/734//zuvvi/media/bc_images/bc_izone/test/HAND_SIGNAL3.1422361294.jpg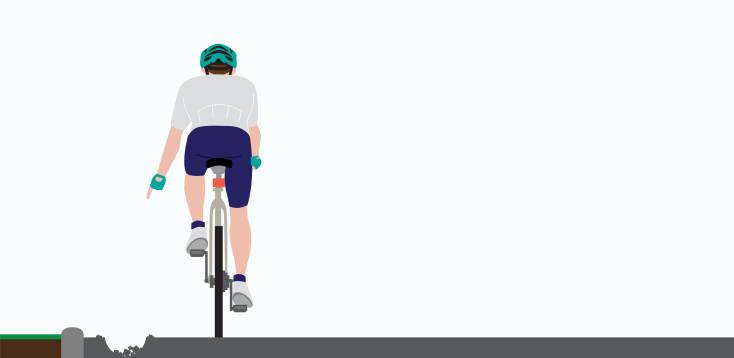 Waving/pointing behind back: Indicates that there is an obstruction such as a parked car or pedestrian and that the whole group needs to move in the direction indicated to avoid it.
image: https://www.britishcycling.org.uk/734//zuvvi/media/bc_images/bc_izone/test/HAND_SIGNAL1.1422361291.jpg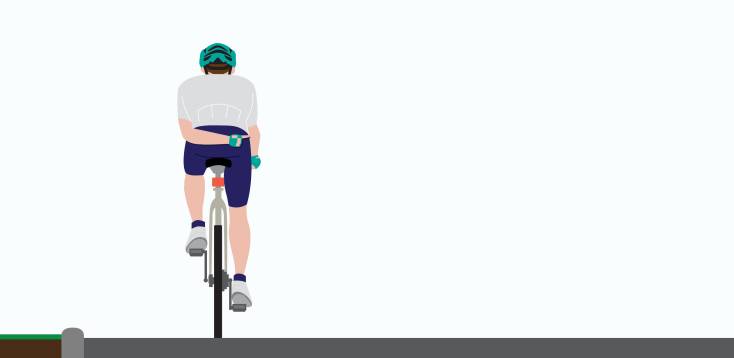 There are also a number of video guides to group riding skills here to help improve your riding.

Read more at https://www.britishcycling.org.uk/knowledge/article/izn20121221-group-ride-0#dqGLClOVku16TPyg.99